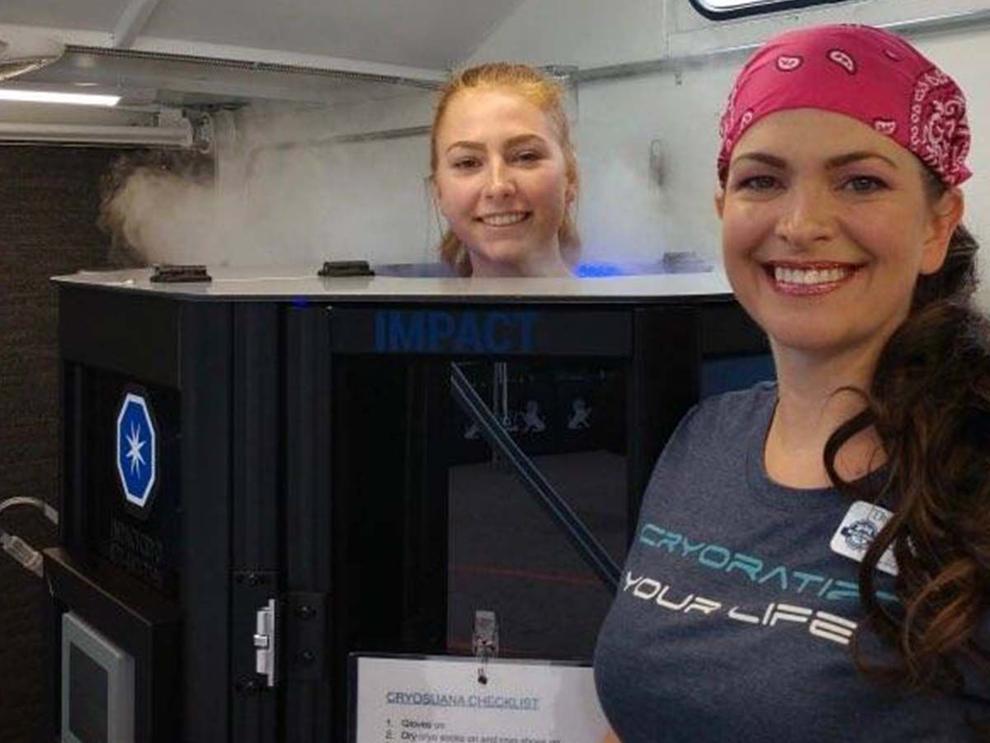 Ditch the ice packs and chill out.
Cold therapy, also known as cryotherapy, uses dry, cold air therapy in an effort to stimulate the body's natural healing abilities and reduce inflammation while providing natural pain relief and energy. While not a medical device or treatment, proponents of the therapy say it has helped them with chronic inflammation, post-operative and injury healing, muscle recovery, chronic pain, mental health and overall wellness.
"Cryotherapy is basically putting the body into a 'fight or flight' state," said Tara Mechaley, owner and founder of The Body Spa and Cryo, the longest-running cryotherapy business in South Dakota. "The sudden decrease in temperature activates the body's natural defense system by rushing to one's core and reducing blood flow to areas which are inflamed and in pain. When you step out of the chamber, the oxygenated, nutrient-rich blood is immediately pumped back to the extremities and begins to promote the healing of damaged tissue at the cellular level. Basically rebooting the body."
For anyone unfamiliar with the setup, or even a bit claustrophobic: The walk-in, octagonally shaped Impact Cryosauna chamber is upright and spacious, allowing one's head to stick out of the top. The full-length door does not lock and can be opened from the inside at any time during a session. A technician remains in the room to run and monitor the session, as well as to act as a cheerleader. Sessions last from 60 seconds to three minutes, depending on the client. The temperature in the cryosauna will be dropped down between -110 and -189, also dependent on clients needs. The entire appointment will last about 10 to 15 minutes.
Once inside the treatment room, clients are provided with a robe (removed once inside the chamber), thermal dry socks, slippers, gloves and headbands to cover the ears. Undergarments are allowed but not required. Clients are welcome to bring swimwear or gym clothing to wear if that is more comfortable. Single, Buddy and group sessions are available.
"While cold is often associated with pain for some people," Mechaley said, "this is a very comfortable procedure, very different in every way than an outside cold exposure or ice bath. Most people who experience it for the first time are amazed at how quickly the time passes and how great they feel after."
Introduced in Japan in the late 1970s for help in treating rheumatoid arthritis, whole body cryotherapy has become a favorite for professional athletes, celebrities, fitness enthusiasts and everyday clients interested in pain management and muscle recovery.
"Most ailments for the body can be traced back to inflammation as one of the main catalysts. So if you can keep inflammation out, the body will heal faster," Mechaley said. "It's become very mainstream since its introduction. So much so that we have patients that range in age from their teens to the 90s."
The Body Spa and Cryo, recognized as The 1# Best Spa in the Black Hills 2021 and #1 Best Massage Therapist(s) 2018-2021 by the Rapid City Journal, not only offers whole body cryotherapy treatment, but also utilizes targeted cryotherapy for pain management and aesthetics as well. Targeted cryotherapy not only benefits people, but is safe for and can be used to assist in healing and pain management for animals.
Cryo Sculpting, also referred to as fat freezing or fat melting, destroys underlying fat cells that are then digested by the body's waste management system without damaging other tissue. The Kaasen targeted cryotherapy works without suctioning or compression in a more efficient and cost effective way then other equipment, with no down time. Another beauty treatment available with the Kaasen, Frotox — which assists in tightening sagging skin, sculpting of the jaw and cheeks and reducing fine lines while stimulating collagen production — is also now available at The Body Spa and Cryo. 
With this equipment, they can also provide localized cryotherapy for hair rejuvenation to condition and help regrow thinning or absent hair. Their mobile cryotherapy trailer offers "Cryo on the Go" within a two-hour radius of Rapid City for events and groups. Owner Tara Mechaley also highly recommends the spa's award winning massages, infrared sauna and NormaTec compression therapy.
When used in conjunction with one another, the services provided at The Body Spa and Cryo not only assist in the health and wellness of the individual, but leave them feeling refreshed, relaxed and at peace.
So find a chamber and be chill. For more information or to book an appointment call 605-391-1678 or go online thebodyspaonline.com.
---
This content was produced by Brand Ave. Studios. The news and editorial departments had no role in its creation or display. Brand Ave. Studios connects advertisers with a targeted audience through compelling content programs, from concept to production and distribution. For more information contact sales@brandavestudios.com.
Spa and Cryo