According to the National Institute on Deafness and Other Communication Disorders, hearing loss affects 1 in 8 people in the United States. Studies also show that while 28.8 million U.S. adults could benefit from wearing hearing aids, fewer than 1 in 3 people over the age of 70 actually do.
"One of the greatest things that impacts someone who suffers from hearing loss is the ability to effectively communicate," says Kelli R. Kernan, BCHIS (Board Certified) Hearing Instrument Professional. "When you can't understand what your loved ones are saying, you tend to isolate yourself from situations."
That social separation from family and friends can cause depression, especially for older adults. In addition, hearing loss may play a role in the development of cognitive conditions like dementia and Alzheimer's disease. And it's not just seniors who are affected. Younger people are now being diagnosed with hearing loss at increasing rates due to noise exposure and the widespread use of electronic devices.
As a family-owned and -operated business with 11 years of experience under their belt, Heartland Hearing Centers have long been committed to preventing potential hearing-related issues, all while treating each patient like their own family.
"So many people tend to avoid getting their hearing tested," Kernan says. "Most individuals don't realize the long-term effects of not getting tested early."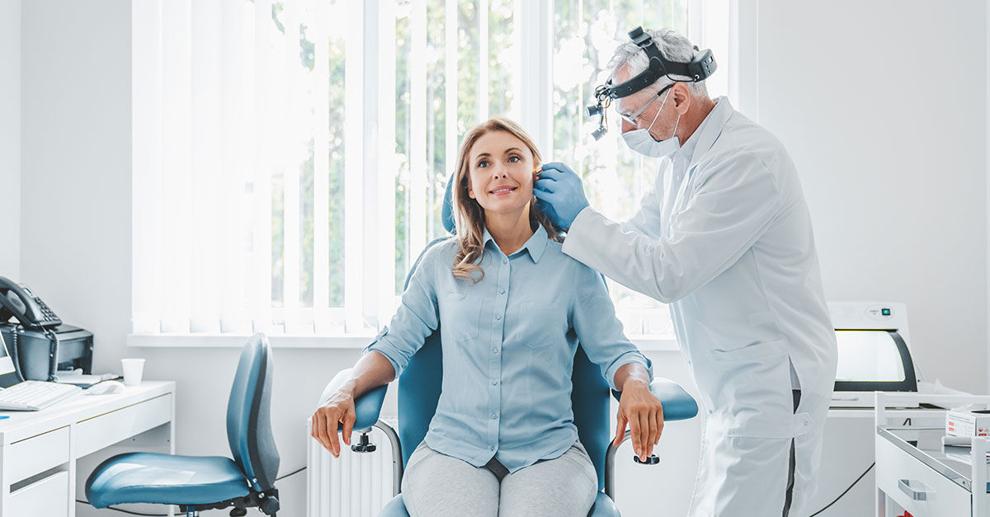 What to expect during a hearing exam
A hearing evaluation is often much easier than patients anticipate. First, the doctor or specialist will make sure the ear canals are free of wax and other potential blockages. Next, an otoscopy exam is performed using sounds and tones in differing frequencies to measure the patient's hearing ability. Speech testing may also be conducted. To conclude, the specialist will discuss the results and potential therapies with the patient.
"The most common solution to correcting hearing loss is the use of hearing aids," Kernan explains. "It really is a simple process, but it can take time and patience to relearn speech sounds if needed."
Now available in smaller sizes and a variety of shades to match different skin tones, hearing aids have come a long way in eliminating the stigma they once generated for wearers. Patients are often pleasantly surprised to learn how comfortable and unobtrusive hearing aids can be.
Heartland Hearing Centers provide solutions
"The biggest thing that separates us from other providers is that we truly treat our patients like family," Kernan says. "We don't have that 'big-box' store mentality. We try to stay extremely competitive with our pricing, and usually are able to provide a much better deal for patients overall."
Although hearing aids are now widely available through a number of outlets, Kernan stresses the importance of taking the time to thoroughly evaluate and correct hearing loss with an experienced professional.
"Heartland Hearing Centers have been in business for 11 years," she says. "My father, Heartland CEO Royce R. LaMarr, has been in the business for over 30 years, and I've been practicing for 13 years. It's been the best experience getting to work alongside my father and doing what I love."
Don't wait to address potential hearing loss. To find out more, call Heartland Hearing Centers at 877.720.0555 or visit heartlandhearing.com. Most insurance plans and Medicare accepted.
This content is provided for informational purposes only by Heartland Hearing Centers and is not a substitute for professional medical advice or treatment. Please consult your healthcare provider for medical advice. Any views, thoughts or opinions in this paid post belong solely to Heartland Hearing Centers and do not represent the views of Brand Ave. Studios or its parent company.
---
This content was produced by Brand Ave. Studios. The news and editorial departments had no role in its creation or display. Brand Ave. Studios connects advertisers with a targeted audience through compelling content programs, from concept to production and distribution. For more information contact sales@brandavestudios.com.