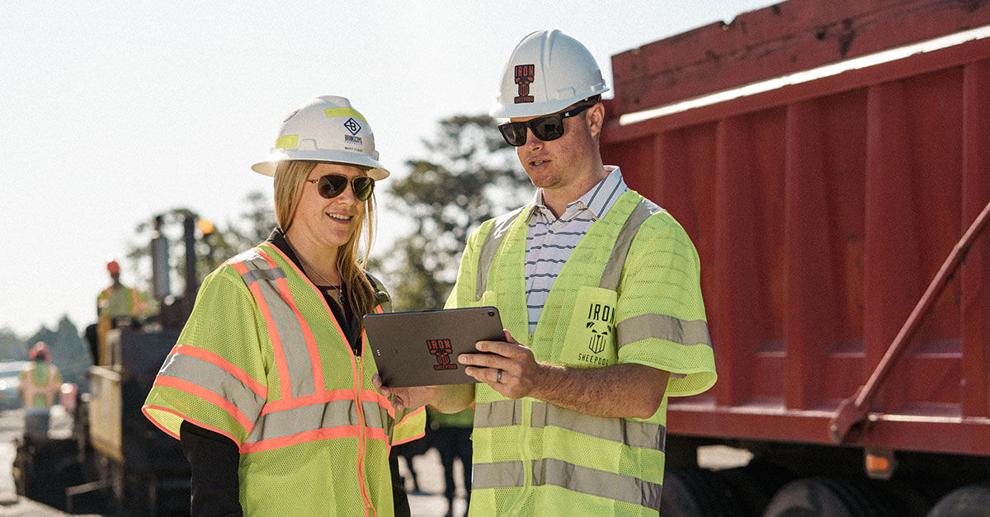 Whether you're a contractor, broker or operator, you know that dump truck hauling requires an immense amount of logistical planning throughout each stage of the project. Between bid estimates, scheduling and dispatching haulers, communicating with team members and truck drivers, and reconciling costs and invoices, it's easy to get lost in the paperwork – which can lead to costly delays.
By consolidating all communication, paperwork, billing and analytics for a job into one integrated software that can be accessed by any members of the team who need it, contractors can save valuable time and money when managing budgets and logistics. Thankfully, companies like Iron Sheepdog are here to help make this a reality.
Iron Sheepdog is a software platform that serves as an end-to-end solution for short haul trucking. It streamlines the hauling process for contractors, brokers and haulers alike by giving them one easy-to-access tool to order trucks, view project data, manage invoices and issue direct payments.
This intuitive software helps contractors and brokers keep track of each truck and driver in real time, while allowing haulers instant access to their earnings through direct deposits. It also connects brokers with reliable haulers who can help get the job done.
Invoicing made simple
The days of dedicating weekends to bookkeeping or spending Sundays hand delivering checks to haulers are over. With integrated software from Iron Sheepdog, contractors and brokers can share and view invoices and project costs as they're added so that miscommunications are minimized and tickets are reconciled each day, resulting in more efficiency and better client relationships.
Contractors and brokers are able to pay their haulers through the app. Meanwhile, those operators can view their earnings within the app as the project progresses and can access their earnings through direct deposits to their bank account, with an option for next-day pay if they choose.
"We eliminate that paper ticket, and we have one reconciled invoice that is readily available. And the cash flow is instantaneous to the users," says Iron Sheepdog CEO, Jake Liebler.
Real-time data enables truck tracking and instant communication
The user-friendly app also allows for easy, instant communication between contractors and haulers. This saves time and helps facilitate a smoother workflow if plans change at the worksite or more information or instructions are needed.
Iron Sheepdog's truck tracking and analytics tools also help contractors track hauling efficiency and costs to learn where changes need to be made. By using built-in tools such as interactive truck maps and load cycle analysis, project leaders can learn vital information such as how many haulers have accepted a job, which trucks are experiencing issues or delays during a job and which trucks are moving most efficiently. This helps project leaders understand costs as the job progresses instead of after it's finished, allowing the team to monitor and adjust as needed.
While highlighting the value to leaders of tracking data to better manage hauling jobs, Liebler explained, "It's such a significant portion of the job cost that if they can get it under control and really understand in real time what they're spending, how to maybe make it a little more efficient, it results in lots and lots of potential savings for them."
Liebler believes in developing long-term relationships with contractors, brokers and haulers. "Our platform is the tool that provides benefit to all users, but our team's expertise and commitment to service make us the ideal partner in this increasingly competitive market."
If your short haul trucking could benefit from efficiency, look no further than Iron Sheepdog. To learn more, visit ironsheepdog.com.
---
This content was produced by Brand Ave. Studios. The news and editorial departments had no role in its creation or display. Brand Ave. Studios connects advertisers with a targeted audience through compelling content programs, from concept to production and distribution. For more information contact sales@brandavestudios.com.