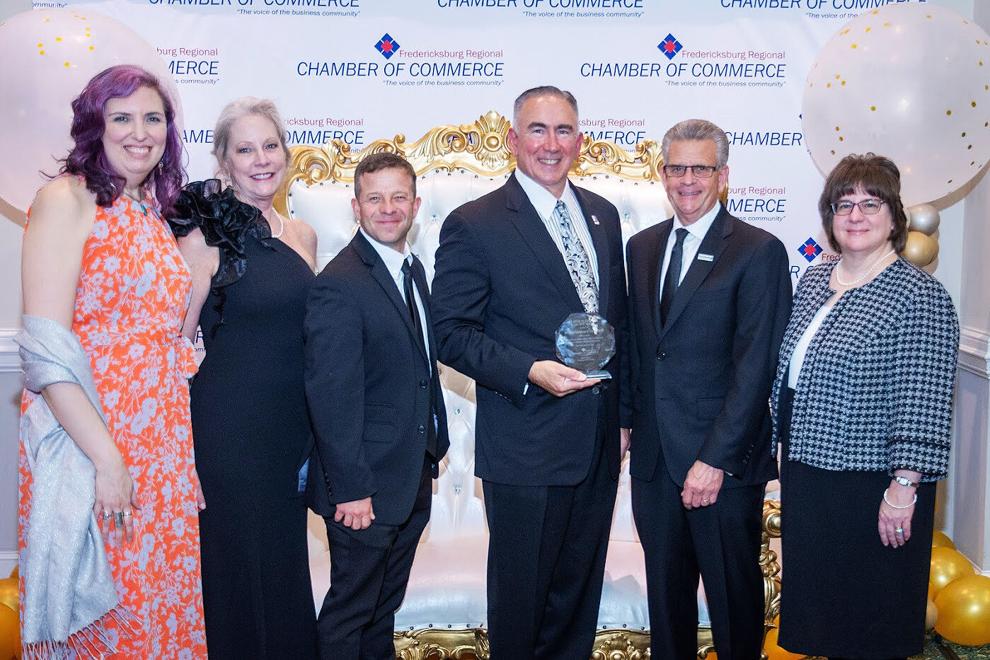 Rappahannock Goodwill was named Large Business of the Year by the Fredericksburg Regional Chamber of Commerce — an honor given for excellence in business practices and community involvement. It was presented at the 32nd annual awards and gala, attended by more than 550 guests.
"We are thrilled and humbled to receive this recognition," said Steve Cox, president and CEO of Rappahannock Goodwill. "This award is a testament to the hard work and dedication of our employees and the unwavering support of our community."
For almost 60 years, Rappahannock Goodwill, a nonprofit charitable and social service organization, has been transforming lives with their jobs programs, as well as initiatives that provide emergency aid and create a cleaner environment.
The jobs program
Rappahannock Goodwill's primary mission is helping people with disabilities and other barriers to employment find work. Their jobs program offers an effective path to economic independence through job training, career development and employment services.
Every month, the program assists nearly 600 people, and in 2022 alone, they placed about 1,500 people in new jobs — jobs that pay an average wage of over $20 an hour.
The services they offer — free of charge — range from resume writing and interview skills to job placement. They also connect people with tuition grants for certifications in health care, information technology, early childhood education, manufacturing, public safety and other skills needed for high-demand, well-paying jobs.
In addition, Rappahannock Goodwill is also a job creator, providing employment in their stores, donation centers and all of their operations, including custodial services for the FBI Academy at Quantico.
"The ripple effects of our mission extend far beyond the individuals we serve," Cox said. "As people find stability and purpose in their work, they become positive contributors to society, role models for their families, and agents of change in their communities."
The emergency voucher initiative
Through their voucher program, Rappahannock Goodwill aids people in emergency situations. Among the hundreds who have benefited are local students and their families, the homeless and people who are searching for work. The voucher program is administered through local community service organizations. 
"This kind of assistance not only helps these individuals, it lifts the community as a whole," Cox said.
A leader in environmental responsibility
Rappahannock Goodwill's stores and donation centers also have a major impact on environmental sustainability. Last year alone, by recycling the goods that people donate, nearly 8 million pounds of clothing and other items were diverted from landfills.
What's more, their custodial programs, like the one at the FBI Academy, not only provide jobs but have also received the highest certification for sustainable green cleaning.
Donate, shop, help people and the community
Donations to Rappahannock Goodwill benefit everyone. During spring cleaning, or any other time of year, people can clear space and bring a new outlook to their own lives, while also giving back to the community.
Clothing and other gently used articles can be dropped off at a nearby donation center, while those giving furniture, vehicles or other large items can arrange for an in-home pickup. You can also discover great finds and bargain prices at one of Goodwill's 15 local stores or their online store.
"Everything we are able to do is because of the support from people who donate and shop at Goodwill," Cox said. "This simple act of generosity contributes to the well-being of our community, promotes sustainability and empowers individuals to achieve self-sufficiency."

---
This content was produced by Brand Ave. Studios. The news and editorial departments had no role in its creation or display. Brand Ave. Studios connects advertisers with a targeted audience through compelling content programs, from concept to production and distribution. For more information contact sales@brandavestudios.com.